For the longest time, I was only able to get the supporting role in life. And though you may be thinking, "I didn't know Safa was an actress," well, I'm not. I literally mean that I always focused on helping others and making them happy for the first 13 years of my life. As the years passed, nothing of significance appeared to stand out in my memories, only glimpses of amusement parks and birthday parties.
Perhaps it was because my long-term memory is weak, or maybe those years were blurry because I didn't focus on myself. When I looked at others, I even saw them as bystanders in their own stories. Other friends tell me that they remember most of their childhood adventures clearly, but I can't say the same because my brain didn't mark my childhood as something that I played a significant role in.
Thankfully, I can tell you that every moment of the last three years is crystal clear because of the precious friends I've made in high school, especially my five best friends. These girls have given me the motivation to become a better person for myself and for others. I used to want to live a "normal" life and only engage in necessary activities but nowadays, I find myself wanting to do more, to do things that I'm interested in and wanting to invest myself in.
When I was younger, I loved writing about anything, and I even won second place in the Reflections Contest in middle school. This year, I joined Odyssey because I wanted to revive the girl who always passionately transferred her words to paper, regardless of the topic. I've started reading books for my enjoyment again, rather than simply for school assignments. A few days ago, I picked up "Coma" by Robin Cooke because I hadn't picked up a medical thriller (my favorite genre) since seventh grade.
There are so many more little things that I've begun to do that bring me joy in the midst of my overwhelming exams and assignments, all thanks to my supportive friends who inspire me and remind me that it's okay to indulge in myself.
Neha writes beautiful stories for her growing fan-base on Tumblr (I'm her #1 fan).
Divya is a devoted gamer and watches true crime shows.
Michelle uses her marvelous looks and brain to ace math competitions (she isn't a nerd, so get that stereotypical image out of your head).
Tiffany creates amazing digital art and equally amazing paintings (I take pictures of every one of her exhibitions in school).
And Emily does covers on YouTube with her lovely honey voice (I'm also her #1 fan).
Seeing them find time for the things that make them happy motivates me to do the same.
The friend who played the largest part in encouraging me to find myself was the one I made on the first day of ninth grade: Neha Satish. I will always remember those awkward but heartwarming five minutes for the rest of my life. Neha and I were both from different middle schools that didn't feed into our high school, so we didn't know anyone. We had noticed each other in first period, and we had seen each other again during lunch. My dad had come to the front lobby to pick me up at the end of the day, and Neha happened to be passing by to go to her car, too. She suddenly stopped in front of me.
"Do you want to eat lunch together tomorrow?" she asked.
I was startled to say the least, yet I was also elated. And so began our beautiful friendship. Neha knows me more than I know myself. I tell her my secrets and worries, and in return, she provides me with encouragement and comfort. Sometimes, we're the exact same person, and sometimes, we're polar opposites.
I used to be very cautious about my opinions around other people because I didn't want to hurt their feelings or cause disagreements. However, Neha and I have so many different views that we share without triggering each other. She taught me to think that my thoughts and opinions were valuable.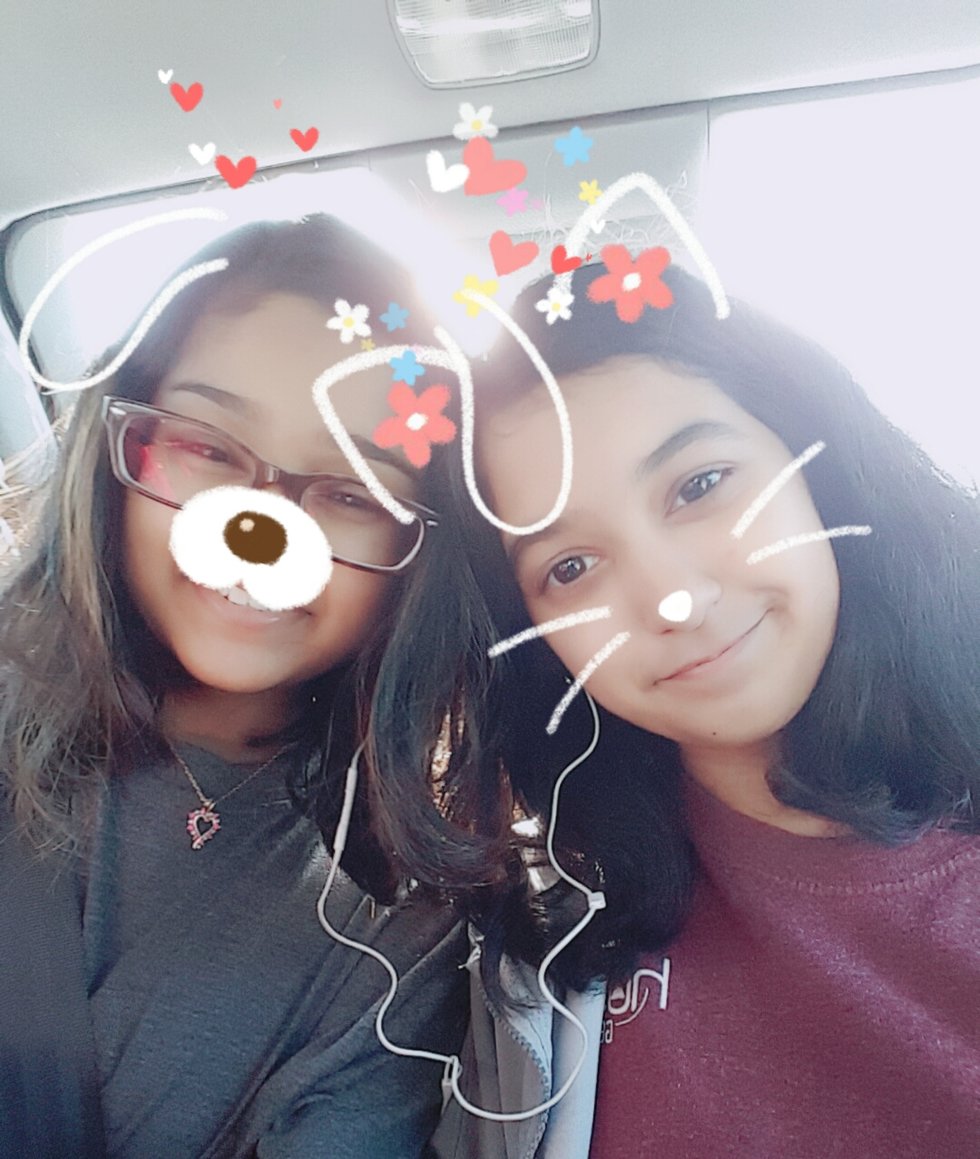 When anyone asks me who my role model is, I would tell them it's Neha Satish (so are you, Mom; don't freak out). Neha is a strong, loyal and reliable friend. She isn't afraid to pursue what she wants, and she knows how to make herself happy. This girl never runs out of motivational quips that always have me drowning in tears and gratitude. Without her, I would still be focused on making others happy and supporting them instead of myself.
When I told her that I wanted to start living a better life for myself, she promised me that she would help me through every step of the way and that she would make sure her shoulder was nearby when I needed someone to lean on. And finally, that she would support my every decision.
To this day, she has never broken that promise.
This is a guest post from Leila Roy. Leila has a regular weekly column about YA fiction at Kirkus Reviews, and started Bookshelves of Doom way back in 2004. In the physical realm, she's a library director in rural Maine and watches a shocking amount of television. Follow her on Twitter @bkshelvesofdoom.
____________________
I preferred reading to socializing on the school bus.
I loved garlic salt on my popcorn.
I avoided kickball during recess by hiding behind the dugouts with a book.
I was a Doctor Who-superfan in the late-'80s.
I didn't discover the wonders of deodorant until it was far, far too late.
I was a lonely, somewhat stinky kid.
Even after I had basic hygiene and social interactions more-or-less figured out, it still took me a long time to find my people. I had friends in high school and in college, people I had things in common with, people I connected with, people I felt close to—but I never felt like I truly belonged anywhere until I got a post-college job working in a bookstore.
Thankfully, even during the loneliest of my lonely years—CURSE YOU, FIFTH GRADE—I always had books. More specifically, in books, I found my people long before I found them in real life. These were the girls who kept me going, who reminded me that I wasn't alone, who gave me hope that someday, somehow, I would be accepted for who I was, that I would be comfortable with my peers, that I would be comfortable with myself:
Mary Lennox, from Frances Hodgson Burnett's The Secret Garden
So, let's face it: Mary Lennox is a monster at the beginning of The Secret Garden. She's spoiled, selfish, and sour; she's a snob, she's racist and classist and her behavior is across-the-board vile. (It seems likely that the racism and classism would come hand-in-hand with growing up rich and white in British colonial India, but still, yuck.)
She's also completely alone. Even before everyone she knows dies in the cholera epidemic, even before she's sent to live with strangers in England, even before that, she was entirely neglected by her family: underfoot, unwanted, unloved. And rather than trying her damnedest to be lovable—rather than going Sara Crewe's route of quiet, kind, stoicism—she lashes out. I think of Mary Lennox as the original Angry Young Girl, and as a kid, I found her willingness to give voice to that anger so, so empowering.
Meg Murry, from Madeleine L'Engle's A Wrinkle in Time
Oh, Meg Murry. Meg Murry with her glasses and her social awkwardness and her big brain and her fury and her big, big heart. Meg Murry saves her brother and her father not with her brains, but with her anger and with her stubbornness and with her love. She cries when she's frustrated, she cries when she's sad, and she cries when she's angry, and L'Engle never suggests that that's a weakness. As a child who was prone to tears—let's face it, I'm well into adulthood and that hasn't changed—and who got teased mercilessly about it, I loved seeing her heart and her rage and her tears portrayed as strengths, rather than weaknesses.
Harriet M. Welsch, Beth Ellen Hansen, and Janie Gibbs, from Louise Fitzhugh's Harriet the Spy and The Long Secret
All three of these girls spoke to me, and for three different reasons.
Harriet found it easier to interact with the world by observing it: Ditto.
Beth Ellen was quiet, meek on the outside, but was a ROILING BALL OF DISCONTENT AND FURY on the inside: Ditto.
Janie Gibbs wanted to blow up the world. I didn't entirely identify with THAT, but I so very much appreciated her willingness to mouth off about it, and in that way, I wanted to be like her.
Anastasia Krupnik, from Lois Lowry's Anastasia Krupnik books
Anastasia was awkward, but she owned it. She was neurotic, but she owned it. She was smart, she was funny, she was geeky before geeky was cool. She was so freaked out about losing her only child status that she considered naming her little brother "One-Ball Reilly" and she hated rhyming poetry. She spent a lot of time on her own, and she was OKAY with that. She was opinionated without alienating people, and she did her own thing without worrying too much about what other people would think.
I identified with her on so many levels, and I wanted her to be my friend. Really, I still do. 
Honorable mentions! Lloyd Alexander's Vesper Holly, for being way more badass than Indiana Jones, and for having all of the adventures I'd have been too timid (or lazy) to take part in; and Beverly Cleary's Beezus Quimby, for knowing exactly what it's like to have a super-rambunctious, ultra-charismatic, scene-stealing younger sister.
Ladies I wish had been around then! Jo, April, Mal, Molly, and Ripley, from Noelle Stevenson and Grace Ellis's Lumberjanes, because they're a group of girls with disparate personalities and interests who have the friendship and camaraderie that I so sorely missed at that age; and Kamala Khan, from G. Willow Wilson's Ms. Marvel, because she makes being a young woman—even with all of the challenges she faces, realistic and fantastic—look inspiring, exciting, and powerful.
Who were your literary lifelines?
____________________
Book Riot Live is coming! Join us for a two-day event full of books, authors, and an all around good time. It's the convention for book lovers that we've always wanted to attend. So we are doing it ourselves.
Sign up for our Children's newsletter and watch your TBR explode.
By signing up you agree to our Terms of Service
#Children's
Wishlist upcoming releases you're dying to read. Get exclusive podcasts and newsletters. Enter to win swag. Do it all when you join Insiders.